I'm writing you from a chair. A large chair. A very large chair, all my own, taking up the corner of my room nearest the window. My feet are up, as it is a recliner. A very large, brown leather recliner that I bought from a woman named Heather on the internet. She was kind enough to help me lug it to my car, which had trouble stomaching the entire mass of my new, very large chair. But we eventually maneuvered the thing through the hatch in the back, where it sat neglected for several days and nights until I worked up the nerve to ask my new housemate to help me lug it out of the car. Then, up two flights of stairs and through my narrow door into a room that simply shouldn't be asked to hold so many things.

But now, I'm writing you from my chair. And it is delightful. Upright and comfortable, I sit twiddling on my keyboards and computers, grateful to have left the days when I'd come home from work, collapse on my bed for lack of a chair, and promptly fall asleep far too early.

My chair is not just a chair, though, it is a place to work. A place to be. To be awake and comfortable. Because beds are not for sitting and typing, they are for sleeping. Chairs are for working and living. For being awake and alive. Chairs are where things get done.

And I'm not the only one with an affinity for armchairs.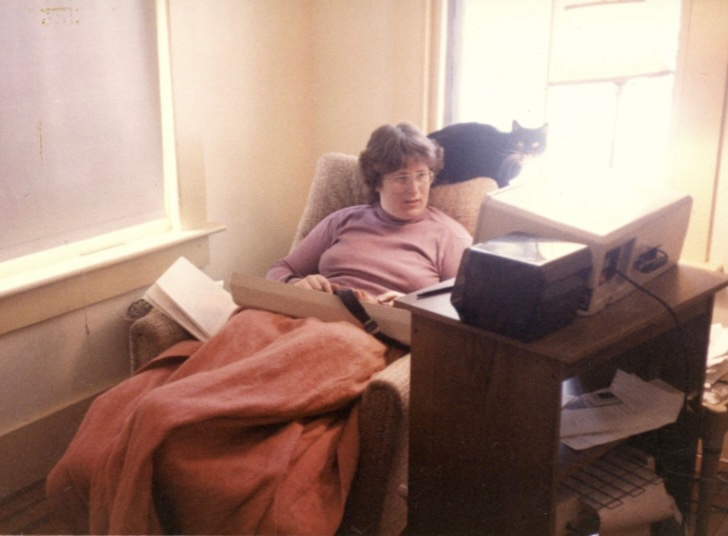 Above is Eve Sedgwick, an American scholar in the fields of gender studies, queer theory, and critical theory, working from home in a recliner of her own.

And below is Willem de Kooning, an abstract expressionist painter, in his large wooden studio chair.
Writer Virginia Woolf supposedly had a favorite chair as well.
"Every morning she would walk down to the basement and into a storage room with a cozy old armchair that she loved. She would write away sitting in the armchair in her peace and quiet."
And the novelist May Sarton said:
"A house that does not have one warm, comfy chair in it is soulless."
A sentiment with which I whole-heartedly conquer. Writer Alan Garner said:
"Everything I have ever written has been in the same chair, in the same room."
But the setup of famed children's author Roald Dahl may be my favorite of them all.
With his blanket and writing board, lamp, pinned up papers, and cluttered desk. His writing shed seems the ideal place to be.

Chairs are one of those things for everyone. They're all around us, in every shape and color and pattern and texture.

In the wonderful documentary, Rams, product designer Dieter Rams tours a collection of whimsical chairs giving his opinions on some of the outrageous maximalist designs.
And chairs have come to mean so many things. They can be symbols of status and life circumstance. Our actions around chairs communicate much. And chairs are often used in movies and media as pieces of the story, as analyzed in this wonderful video essay from 2015. One of my all time favorites.
Of course, how can you write about chairs without mentioning those highest of all?

Though thrones are quite regal, they often seem to be rather uncomfortable, and occupied by cruel folk. Like the angular throne cut of black marble in Eragon, or the Iron Throne made of the swords of past enemies in Game of Thrones.
"It was not a comfortable Throne, this seat made of stone. But power was not supposed to be comfortable."
– Elizabeth D. Marie, Chasing Cinders
Other times, thrones are full of pomp, showing plainly the disparity between the rulers sitting on the throne, and the ruled kneeling before it.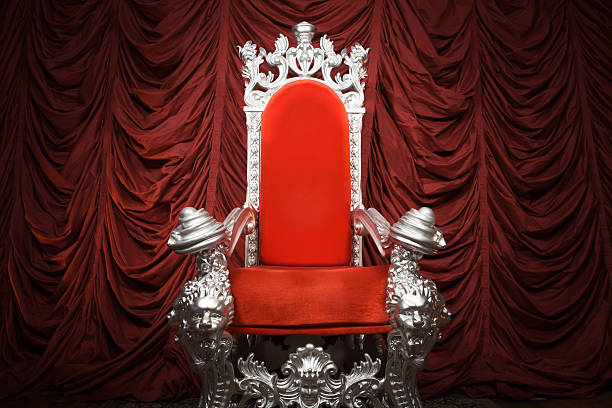 Neither holds much sway on me. I myself prefer a soft, plain chair. To recline and work away on this and that.
"Every chair should be a throne and hold a king."
– Ralph Waldo Emmerson
So this old leather recliner I shall make my throne.